The demographics of Indian society are changing fast. The Indian Census projects the share of elders as a percentage of total population in the country will have increased from around 7.5% in 2001 to almost 12.5% by 2026 and surpass 19.5% by 2050. This translates into an elderly population of about 173 million by 2026.
Unlike the generations before them, the present senior citizens of India are independent, financially comfortable, quite well travelled, technologically savvy and socially connected. They defy the conventional notions of senior living and demand a fuller & more independent life.
In India, the geographic concentration of senior living projects was largely in Kerala, Tamil Nadu, NCR and Andhra Pradesh. This geographic distribution was, paradoxically, largely because of outward migration.
Shri Gopalllaji Maharaj Trust, a renowned religious trust with a legacy of over a century, has now established a modern well equipped Senior Living facility – "Krishnashray", in Jabalpur in Madhya Pradesh.
Jabalpur is a city which is endowed with natural beauty. A hill range passing through the city, the perennial Narmada river flowing majestically along the city's southern boundary and the greenery in large land parts in the city make it a very livable.
It is one of the four large cities in Madhya Pradesh, a divisional head quarter and a district with a population of about 24lacs. The urban area of Jabalpur, which covers the Jabalpur Municipal Corporation's about 80 wards and the Jabalpur Cantonment is about 15 lacs.
Jabalpur is the main seat of the Madhya Pradesh High Court, the head quarter of the Madhya Pradesh Electricity Board and a large cantonment. This makes it a hub of professionals like lawyers, engineers and government servants.
In spite of having large defence establishments like the Gun Carriage Factory, Vehicle Factory, Grey Iron Foundary, Central Ordinance depot and the Ordinance Factory Khamaria and industrial areas in the vicinity like Adhartal, Richhai, Manerai and Umaria+Dungaria, there is very little industrial pollution in the city.
Jabalpur has a typical Indian climate, with warm summers (mid March to mid June, average temperature range Min 23° & Max 41° C) , good monsoon rains (mid-June to September, average about 1000mm rainfall) and a pleasant winter (October to mid-March, average temperature range Min 10° & Max 34° C). The air is nice and clear, the sun is visible.
The fertile soil of the Narmada river valley, known locally as the Haveli tract covers large part of the Jabalpur and neighboring districts of Narsinghpur, Gadarwara on the west and Mandla, Katni on the east.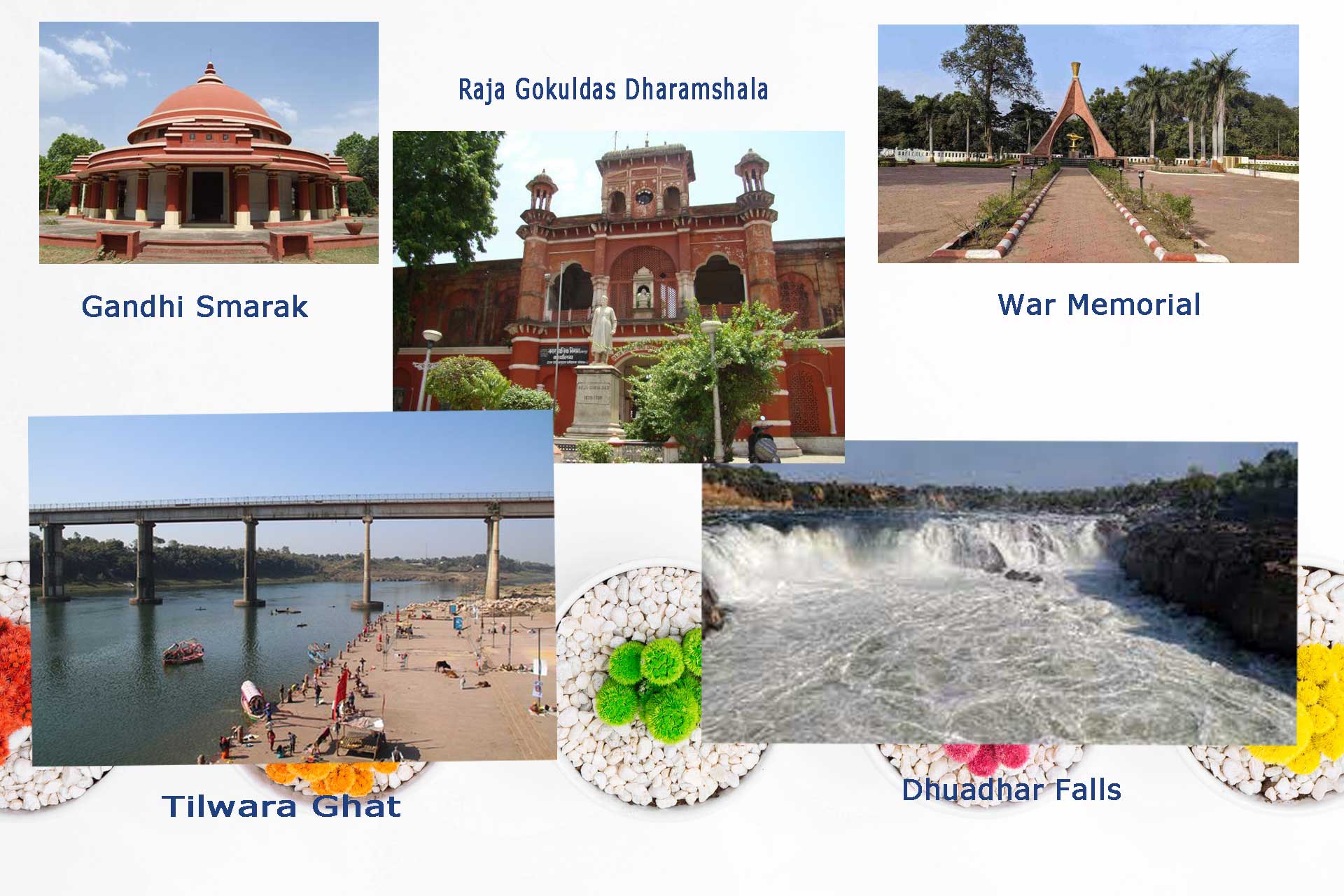 Travelling or driving around this farm belt one is astonished and delighted by the lush green fields during the monsoon and winters, and the golden wheat fields during the summer. One can enjoy freshly made jiggery in Gotegaon & Narsinghpur areas during the season. The fresh vegetables from the river banks are a taste apart. The fresh milk from the dairies is also enjoyed by entire region and cities to the south.
The city is also surrounded by forests and sanctuaries in all directions within a 3 to 5 hours driving distance. These include Kanha National Park (SE), Pench National Park (S), Bandhavgarh Tiger Reserve (E), Panna National Park (NE), Satpura Wildlife Sanctuary (W) and Nauradehi Wildlife Reserve (NE).
Jabalpur is also the regional center for education with four universities viz Rani Durgawati University (RDVV, erstwhile Jabalpur University), the Jawaharlal Nehru Agriculture University, the Veterinary University and the MP Medical Science University. They affiliate hundreds of colleges, serve many thousand students and have hundreds of qualified faculty associated with them. Several autonomous colleges like MH, Mankuwar, Government Science College, Jabalpur Engineering College, Govindram Seksaria, Mata Gujri and St Aloysius also enroll many thousand students and provide higher education in various fields and have history of many many decades.
Similarly the school education sector is well served with numerous CBSE and MP Board schools. There are over half a dozen Kendriya Vidyalay in the city owing to the large cantonment and ordinance factories. Along with them several non-government CBSE schools operate in the city by old non-profits and church organizations like Christ Church and Aloysius and more recent ones including Little Kingdom, Satya Prakash, Little World, Billabong, DPS, etc. Several MP board schools like Model High and Mahrani Laxmi Bai run by the government and Hitkarini, Nachiketa, Narmada, Saraswati, Maharshtra, etc are some of the non-government organizations running MP Board schools enrolling large number of students.
The healthcare sector in the city is also thriving with a large number of doctors in various specialities now practicing in the city. The Jabalpur Medical College now known as the Netaji Subhash Medical College is one of the oldest medical colleges in the state with a large hospital along with a super speciality wing. There are several non-government hospitals as well in the city serving the entire division viz Shalby Hospital, Jabalpur Hospital, Metro Hospital, City Hospital, Aditya Hospital, Jamdar Hospital, Bhandari Hospital, Medicity, etc.
Jabalpur has healthcare facilities & experienced specialists of almost all super-specialization. Several doctors of the city have earned great reputation and goodwill in their own field. As such the medical practitioners of Jabalpur bring to the city one of the best healthcare and disease management and treatment know-hows to the region.
The retail and wholesale markets of the city are well established and serve as the regional center. Jabalpur's whole sale medicine / pharma market and garment market are leading in the sector. The retail high street of Sadar and Katanga are populated with leading brands. The two operational malls of the city viz South Avenue Mall and Samdariya Mall are also home to leading international and national brands.
Jabalpur is also well connected by road, rail and air which makes it convenient to reach for oneself and ones relatives. The driving time from Nagpur, Raipur, Bhopal, etc is 4 to 6 hours with good highways. There are daily trains to all major metros and cities including Mumbai, Delhi, Kolkatta, Bhopal, Indore, Raipur, Nagpur, etc. There are regular flights to Mumbai, Delhi, Hyderabad, Bengluru, Pune, etc.
To sum up, for a senior citizen, Jabalpur offers the best of both worlds – the facilities of a large city or metro, and the less fast paced, relaxed, low cost life of a small town.
Introduction to Senior Living
Every individual has their own reasons for choosing to opt for a Senior Living facility to enjoy their silver years.
The most important change in recent years is that senior citizens are opting to live in such facilities by choice and not by compulsion. It is the quality of the social interaction, hassle free living and the feeling of independence that are key drivers for senior citizens in India now opting to live in senior living facility.
As per an article in The Hindu dated 22nd May 2019, the residents interviewed made it clear that there is a difference between an "old age home" and a "Senior Living facility". Most senior citizens, with their financially independent and stable status, choose to live in comfortable senior living complexes offering various activities for physical, social and emotional well being, while reducing the day to day chores and hassles, making life more enjoyable for the residents.
With better lifestyles and advanced medical care, life expectancy has increased and the numbers living well beyond the 70s has grown rapidly.
Changing social patterns, search for better opportunities in the world at large and growing needs have led to gradual disintegration of the joint family, once the great framework of security and stability, as children have to move on for the new order.
In this changing world those advanced in age need to see that in the years ahead their additional health and lifestyle needs are taken care of.
This and the promise of an active and fulfilled life in the silver & golden age group is what senior living facilities are about – meeting increasing needs with advancing years.
Needless to add that a good senior living facility has to be constructed keeping in mind the need of senior citizens including barrier free access, safety and alarm features, common and community recreational areas, basic healthcare, etc. It also has to be managed well to provide for hassle free living of the residents.
yanny-mishchuk-ojtizjisZ3k-unsplash
Everyone is the age of their heart.
- Guatemalan Proverb
SocialMediaPostMaker_06062021_201039
SocialMediaPostMaker_06062021_202709
Slide